At night our entire building transforms into an intimate music venue, hosting live performances from world-class musicians on our candlelit stage. Expect theatre level sound and lighting, incredible food and stunning performances! 
The restaurant provides the perfect atmosphere for enjoying great food and quality live music with friends or family, with a range of dishes and drinks on offer that take inspiration from the diverse music program at the heart of everything we do. Our dinner menu is simple and delicious, delivering a wonderful restaurant experience reflective of the world class music we host.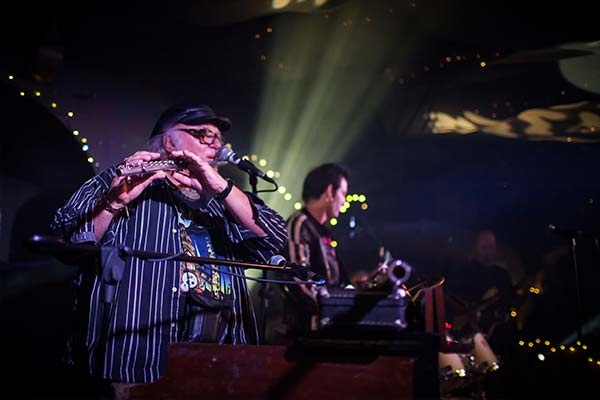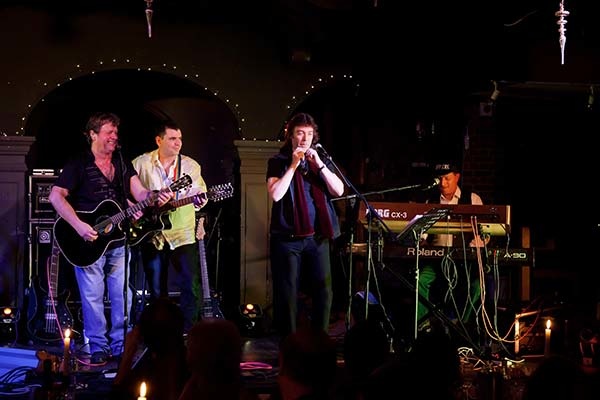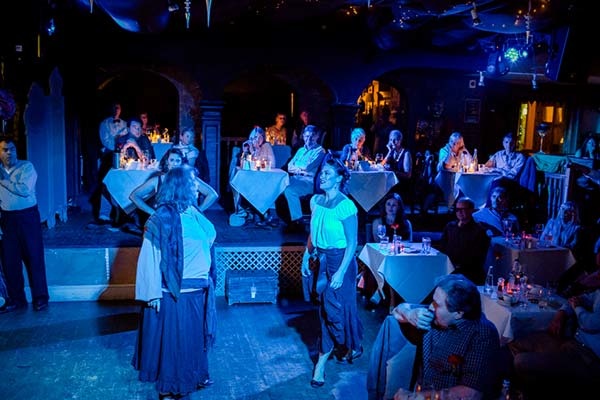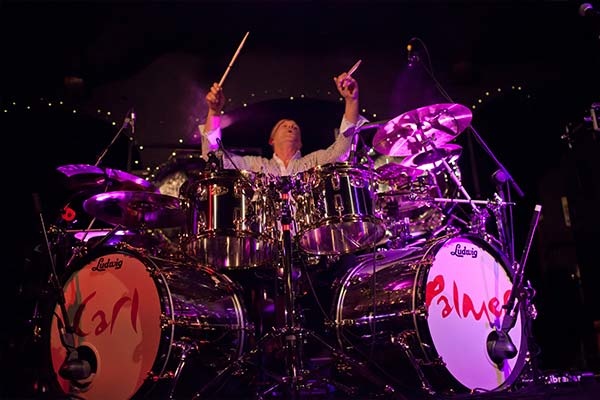 Dining Tickets
All dining tickets include a table reservation and superb 2 course meal, a main and dessert, with a light-bite of artisan bread and olives to start. Our evening menu always offers vegetarian and vegan options, please inform one of our staff members on arrival (or prior to the show) if you have any special dietary requirements and we will specifically cater to them where possible. Due to the nature of the venue, dance-floor dining is often communal at busy shows, a great way to meet like-minded people and enjoy unexpectedly good company!. If you also have friends coming, try to book a table together or let us know on the checkout page and we will try our best to seat you together.
The best seats in the house...
Due to the intimate nature of our venue we recommend dining tickets as the way to properly experience an event, if you want to upgrade to the best seats in the house however, you can purchase tickets to one of our 5 premium booths. Booths are situated on the raised level of our venue offering the best views, sound and privacy for your party as well as priority dinner & drink service. We ask for a minimum of 4 persons for premium booth bookings and there is an additional cost of £60 per booth reservation. Please contact our front desk on 01825 790 200 to upgrade your booking for any event. We only have 5 booths however so reservations go fast for popular events. Subscribe to our mailing list to get early-bird concert announcements and news.
Standing Tickets:
Although we recommend dining tickets as the best way to experience our events, we also have limited room for standing guests at most shows! Due to the intimate nature of our restaurant, standing guests are invited to use the dedicated bar area until 15 minutes before the event. Guests are welcome to browse the showrooms, make use of the heated garden decking or visit the Roger Dean gallery until the show begins.
Due to the intimate nature of the venue the you will never be more than 40 feet from the stage. Expect incredible acoustics and an electric atmosphere. There is room around the main dining area for standing guests and staff will point you in the right direction on the evening.
To allow diners the space to enjoy their meals without crowding, we do try and encourage standing guests to arrive from 8pm onwards. If you wish to arrive earlier to explore our showrooms then you are still more than welcome. Please note that our tickets are non-refundable and no seating is allocated to standing guests.