Browse iconic work of award-winning artists
Trading Boundaries is home to the only gallery in the world dedicated to the work of internationally acclaimed artist Roger Dean. One of the most inspiring and innovative album design & landscape artists alive today.
Our directors Michael and Tracy were first introduced to Roger Dean in 2003. A small, informal exhibition of Roger's work at Trading Boundaries followed, resulting in a lasting working partnership and growing number of collaborations including international Fine Art Fairs and music festivals. In recent years the TB Roger Dean gallery has exhibited at feature shows in Singapore, London, New York, Philadelphia, Hong Kong, West Palm Beach, Naples, Miami & Los Angeles among others.

The Gallery 
Our permanent UK gallery displays all of the limited edition Serigraph & Giclée prints available in Roger's collection as well as select original works, allowing you to view the sublime quality and colour of each piece with the opportunity to purchase. We hold an ever-changing stock of rare, collectable original drawings, watercolours and sketches, which can also be viewed on request.
We are the largest exhibitor of Roger Dean's work in the world, the perfect destination for fans, art enthusiasts and collectors alike. Watch out for our annual exhibition each autumn together with ad hoc events that tie in with live performances in our award winning live music venue.
Artist & Design Exhibitions
As well as Roger's work we have also displayed exhibitions of Cliff Wright, illustrator of the best-selling Harry Potter series, Pink Floyd album designers Hipgnosis (Po Powell & Storm Thorgason) and the anatomical and landscape art of Freyja Dean among others.
'The Path Continues' Exhibition 2022
We look forward to seeing you at our extended Roger Dean exhibition, the largest collection of Roger Dean art anywhere in the world. Due to the UK government guidelines the format for the exhibition may well be slightly different than our usual shows, with safety in mind and social distancing in practice but rest assured the exhibition is continuing in full. Keep an eye on our social media or join our newsletter for regular updates and further information on our latest exhibitions.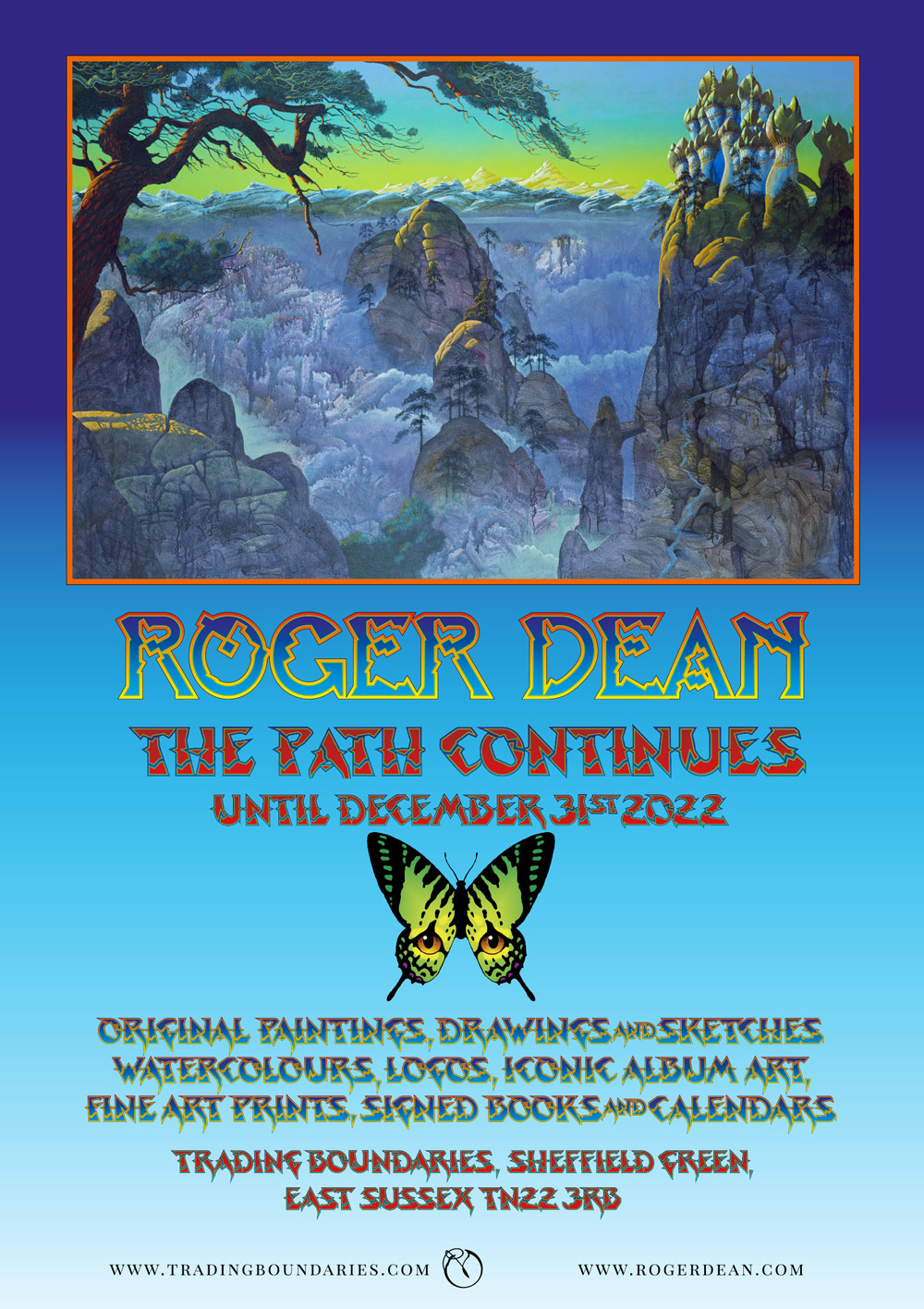 ---
The Gallery is now open by appointment
We are open 5 days a week, Wednesday to Saturday 10am-5pm and Sundays 11am - 5pm. The gallery is staffed by dedicated and knowledgable members of our team to help with any enquiries you may have. We also host specific fine art events throughout the year on top of our annual autumn exhibition. You may even bump into the great man himself.
For any enquiries regarding works, exhibitions or private view appointments, please contact us via the button below or contact our front desk on 01825 790 200.
See our exhibitions page as well as our Facebook and Twitter for up to date event & exhibition news.