John Wetton: An Extraordinary Life
Memorial Concert - Celebrating the Music of John Wetton
*** Concert Streaming now Closed ***
*Although this is a private event, the public are invited to enjoy the concert via a live stream directly from the venue. All streaming ticket proceeds to go to the charity - Macmillan Caring Locally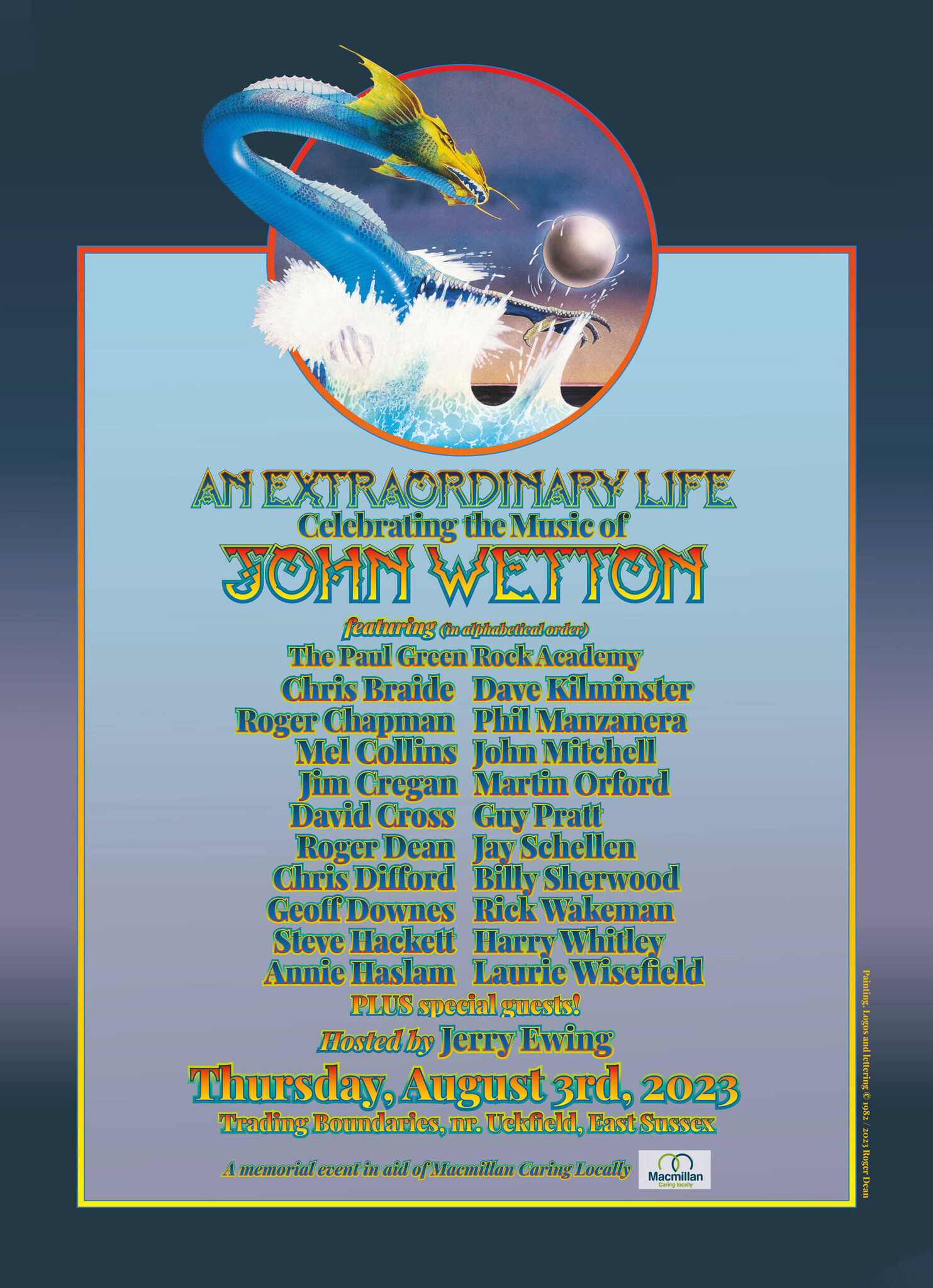 Watch the Concert
Live stream the concert directly from Trading Boundaries in association with Truly Live
Streaming Tickets:
£20.00 from launch until midnight 9th July
£30.00 from 10th - 31st August
*All ticket proceeds to go to Macmillan Caring Locally
Live stream commences at 6.45pm *GMT / BST
The concert will begin at 7pm *GMT / BST
*Thursday 3rd August, 2023 | Ticket Ts&Cs apply*Concert Footage will remain live until Sunday 31st August
About the Event
Lisa Wetton, Dylan Wetton, and QEDG Management are delighted to announce a memorial concert will be held in memory of John Wetton (King Crimson, Family, Roxy Music, Uriah Heep, Wishbone Ash, UK, Asia) on August 3rd, 2023 at Trading Boundaries in East Sussex.  
Although this is a private event the 
Wetton Family are delighted to invite John's loyal fans to be part of this very special evening by enjoying the concert via a live stream.
The event will see friends and family of the late lead singer and guitarist gather together to celebrate the life of this extraordinary musician.  An all-star line-up of legends, who were friends and collaborators of Wetton's, will perform songs from throughout his incredible career.
The memorial event will be hosted by Prog Magazine's editor, Jerry Ewing, alongside Geoff Downes (The Buggles, Asia, YES), Steve Hackett (Genesis, GTR)  and artist Roger Dean.  The list of performers and special guests who wish to pay tribute to the legendary Wetton is growing by the day, but so far boasts (in alphabetical order):
Chris Braide (Downes Braide Association), Roger Chapman (Family), Mel Collins (King Crimson, Alan Parsons Project, Chris Squire, Roger Waters), Jim Cregan (Family, Steve Harley & Cockney Rebel, Rod Stewart, Katie Melua), David Cross (King Crimson), Chris Difford (Squeeze), Geoff Downes, Steve Hackett, Annie Haslam (Renaissance), Dave Kilminster (John Wetton, Keith Emerson, Steven Wilson, Roger Waters), Phil Manzanera (Roxy Music), John Mitchell (John Wetton, Icon, It Bites, Fr*st), Martin Orford (John Wetton, IQ, Jadis), Guy Pratt (Pink Floyd, Roxy Music) , Jay Schellen (YES, Asia), Billy Sherwood (YES, Asia) and Rick Wakeman (YES, Anderson Bruford Wakeman Howe), Laurie Wisefield (Wishbone Ash, Snakecharmer) - all of whom will be supported by The Paul Green Rock Academy.
"I am honoured to be a part of the upcoming John Wetton Tribute.  As you all know, I had a very close and unique writing partnership with John, and we were dear friends, brothers and band mates for many years" - Geoff Downes
Wetton died on 31st January 2017, as a result of complications due to cancer.  He spent his last days being cared for by the charity Macmillan Caring Locally, at the Macmillan Unit, Christchurch Hospital in Dorset.  As a gesture of recognition towards his fans who supported Wetton right up until his death, John's family and management have decided to allow this unique event to be live streamed so that it can be enjoyed across the globe.  They have also identified the memorial as being the perfect opportunity to highlight the fantastic work done by Macmillan Caring Locally and to raise much-needed funds for the creation of a special hospice suite dedicated to the star. 
Lin Sharp, Fundraising and Communications Director for the charity commented "It was a privilege to care for John in the final days of his life and we are so grateful to his wife, Lisa, for her continued support.  All monies raised will go to fund a room as a legacy to John, named The John Wetton Suite. A massive thank you to you all for making this possible."  
"I am delighted and humbled that so many legendary artists who worked with my Dad over the years have agreed to come together both to honour him and raise vital funds for the charity which supported him during his last days." - Dylan Wetton
Tickets for the live stream can be purchased now with all proceeds going to Macmillan Caring Locally.  In an effort to raise further funds, a special online auction will run alongside the evening's proceedings boasting some unique lots, including a guitar owned by Wetton himself.  
This promises to be an incredible, once-in-a-life time event and it is hoped that fans will support it generously by buying live stream memorial tickets as well as bidding on the various auction lots.  
Dylan Wetton went on to say "I cannot think of a better way to celebrate my Dad's life and the incredible musical legacy he has left behind.  It's going to be an amazing night, a unique event - which is exactly what my Dad deserves."   Downes agrees "To honour John's legacy in this way with so many of his former musicians, colleagues and family gather together, shows just what an enormous amount of love, gratitude and respect so many of us held for John and his music.  It's going to be a wonderful celebrations spanning the whole of John's amazing career. I am very much looking forward to it. See you all there."

The Charity - Macmillan
Help us say 'Thank you' to the kind, caring and compassionate charity that cared for John in his final few days…
The Macmillan Unit at Christchurch Hospital is a Specialist Palliative Care Unit and Hospice for patients in South East Dorset and South West Hampshire. It was built in 1974 and was the first of its kind in the country. The charity, Macmillan Caring Locally, works in partnership with University Hospitals Dorset NHS Foundation Trust to provide the services at the Macmillan Unit and in the community. The unit is supported and funded by Macmillan Caring Locally providing an exceptional standard of care and a homely environment for patients, their families and visitors. The charity also provides nursing and medical equipment to improve patient treatment and comfort.  
All proceeds from the live stream will go to Macmillan Caring Locally.
The charity funds the Family Support Team, Rehabilitation Team, the Community Specialist Palliative Care Nurses, the Hospice at Home Team, the virtual Day Centre and a number of senior medical staff roles at the Hospice. It also funds a team of Clinical Nurse Specialists permanently based at University Hospitals Dorset NHS Foundation Trust.
*Macmillan Caring Locally is a small, community charity and is not connected in any way to the national charity Macmillan Cancer Support.
Donate to Macmillan
The Venue - Trading Boundaries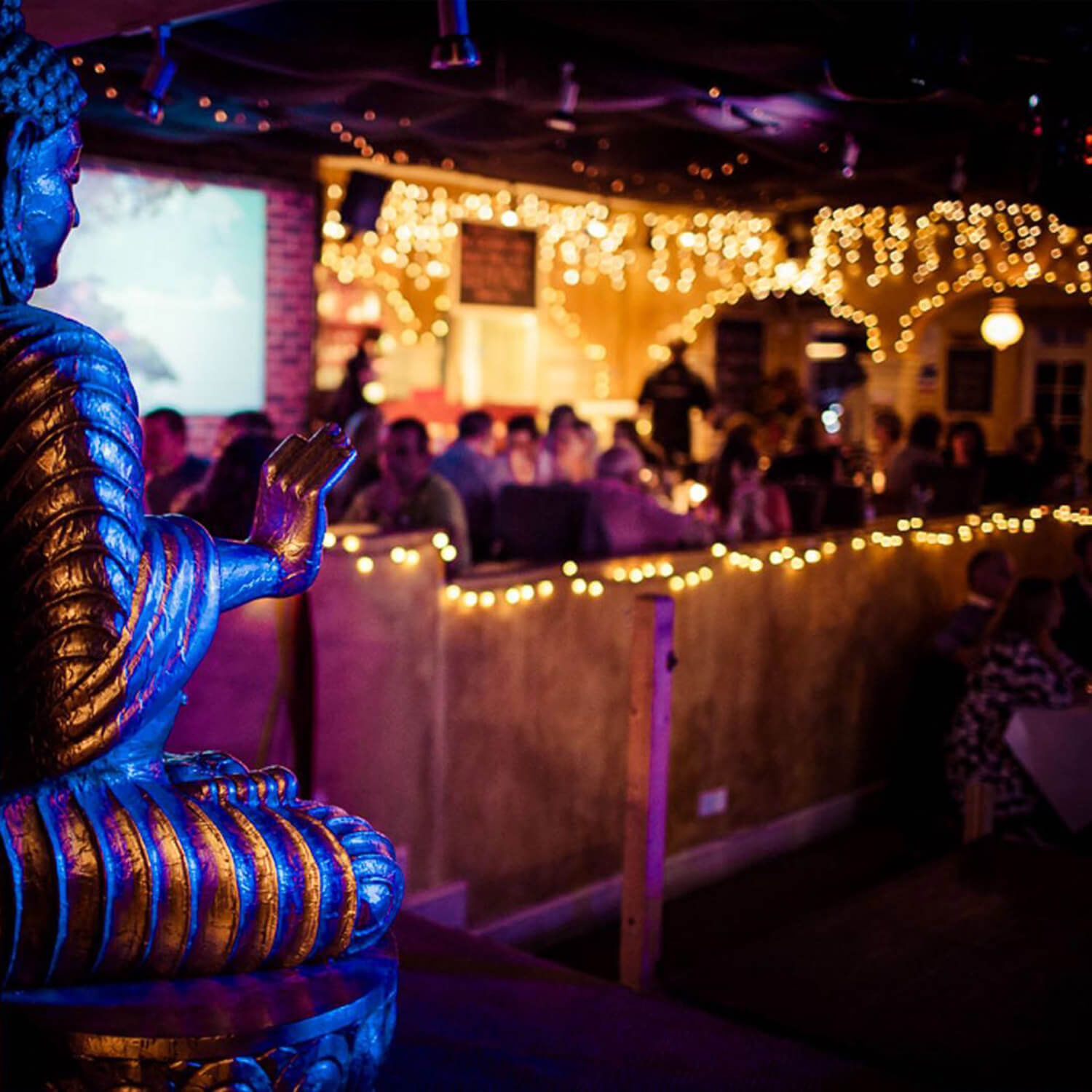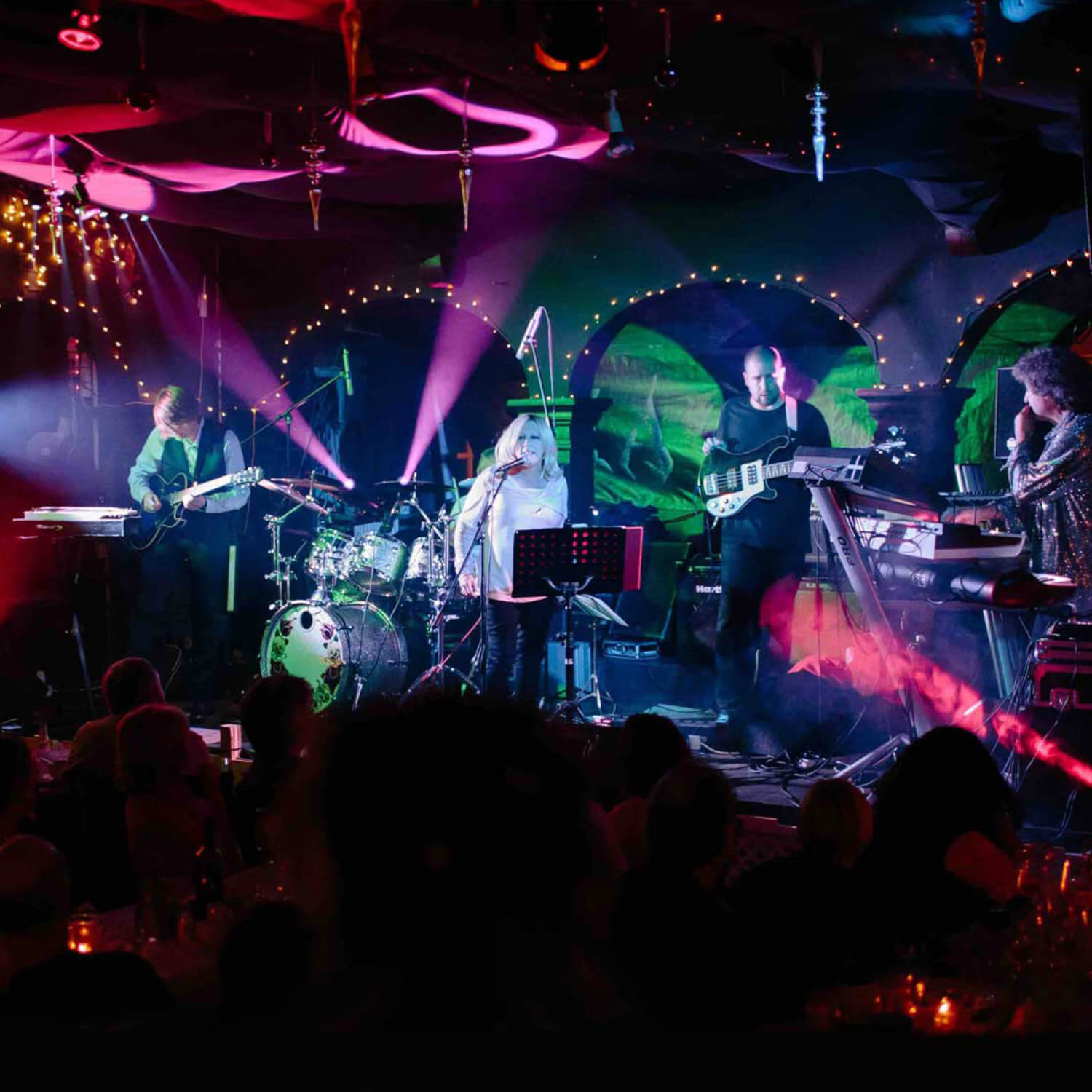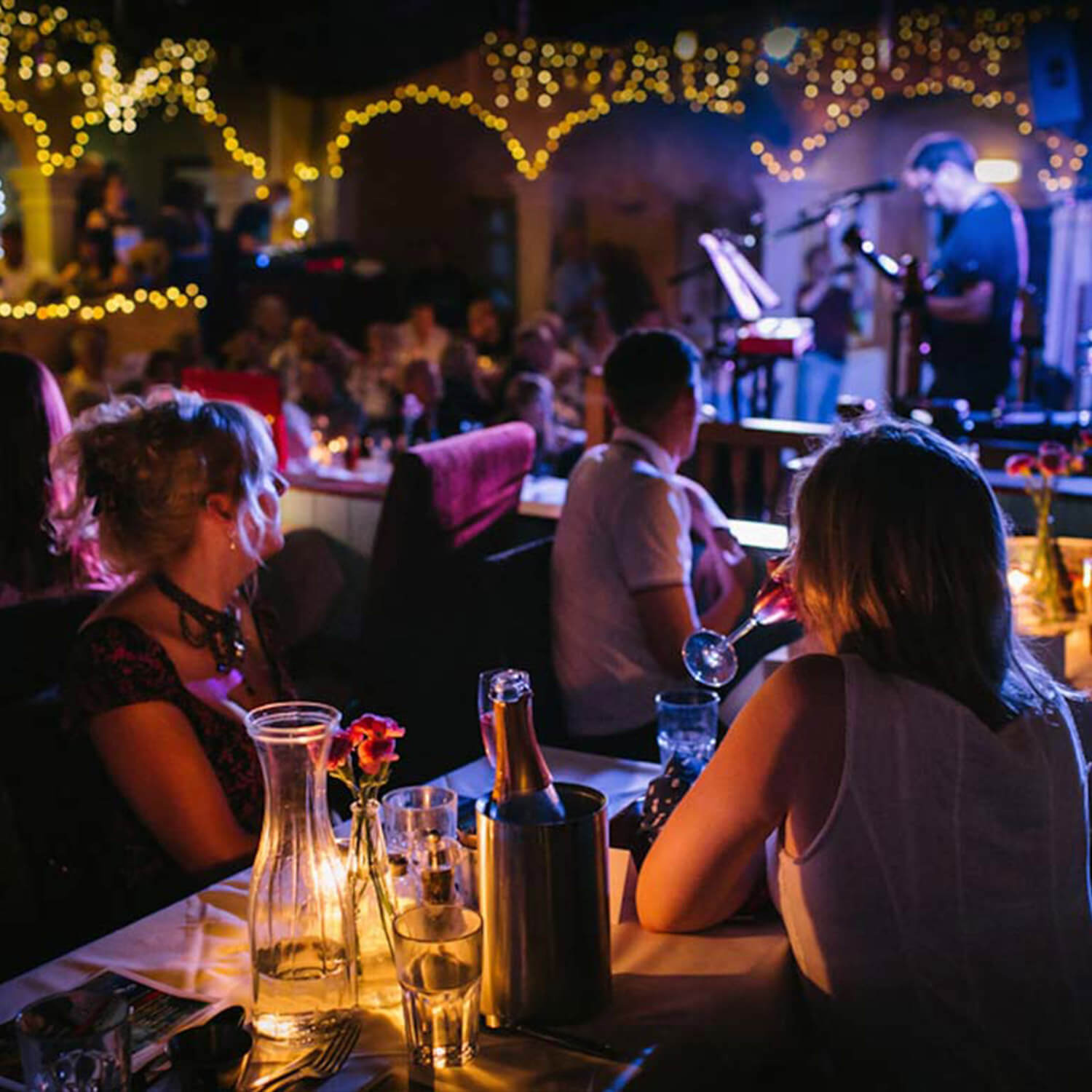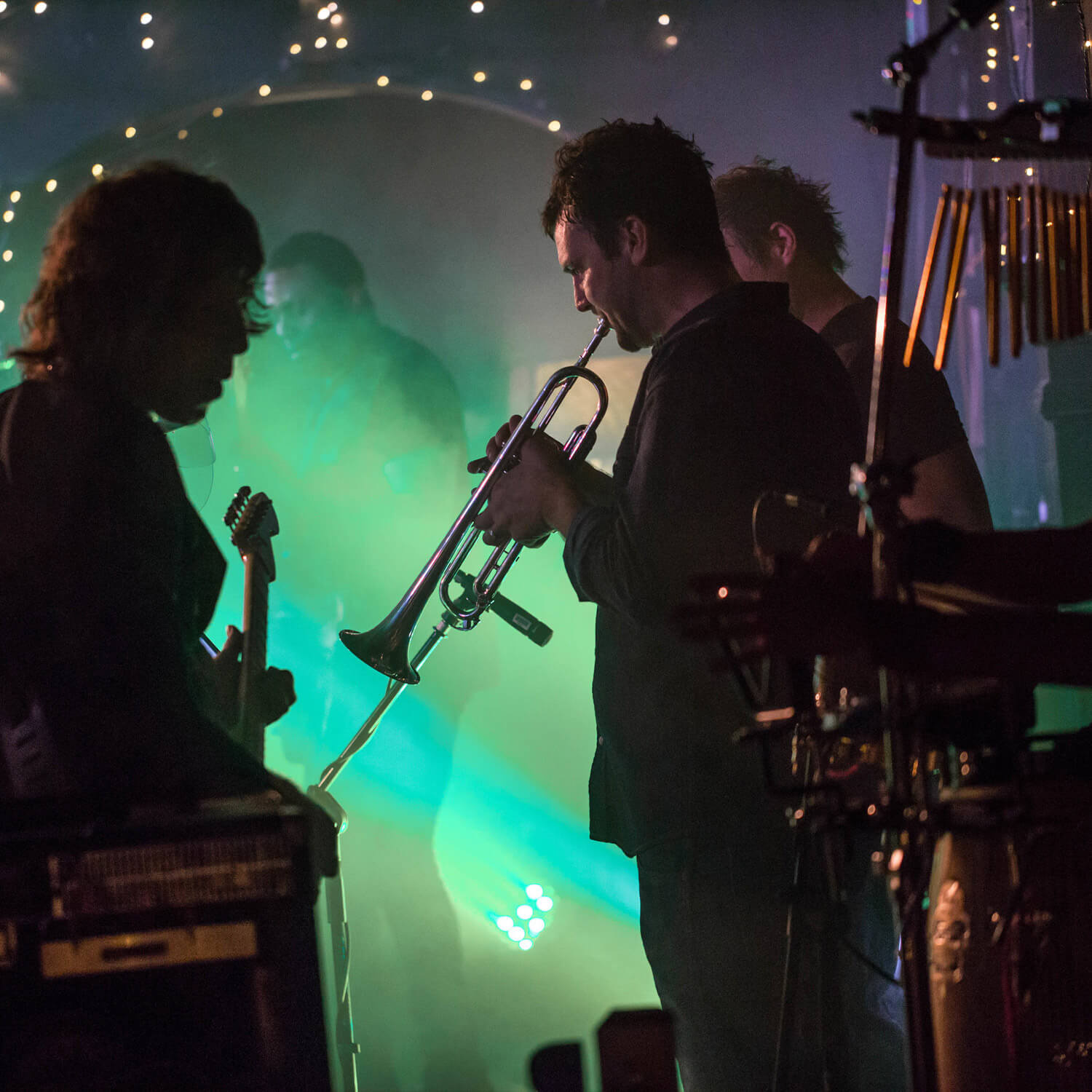 Trading Boundaries is a unique, intimate music venue hidden in the heart of Sussex, run by music lovers, for music lovers. Our ethos is to provide a homely and exclusive musical experience for concert goers and fans unlike any other. Treating you to dinner, spectacular shows, concerts and fascinating story-teller sessions from some of the worlds most iconic artists, in a restaurant, that feels like your living room.
Due to our electric atmosphere and professional service we have been called "as loud as the Apollo, yet as intimate as a New York café". Come down to any of our concerts, gigs, performances or art exhibitions yourself and see what all the noise is about... 
Upcoming Concerts
Live Streaming
Live stream the concert directly from Trading Boundaries in association with Truly Live
Streaming Tickets:
£20.00 from launch until midnight 9th July
£30.00 from 10th - 31st August
*All ticket proceeds to go to Macmillan Caring Locally
Live stream commences at 6.45pm *GMT / BST
The concert will begin at 7pm *GMT / BST
*Thursday 3rd August, 2023 | Ticket Ts&Cs apply*Concert Footage will remain live and available to purchase until Thursday 31st August
To live stream the concert simply purchase your ticket in the video player at the top of this page. You will then be emailed a unique login code in order to view the stream and enjoy the show!
Bring the magic of a truly live show into your house, and customise the experience just how you want it! Never miss out on an exclusive show, stream or cast directly to your TV, Phone, Computer or Tablet.
Be there in the room, at Trading Boundaries.