Posted on
By Trading Boundaries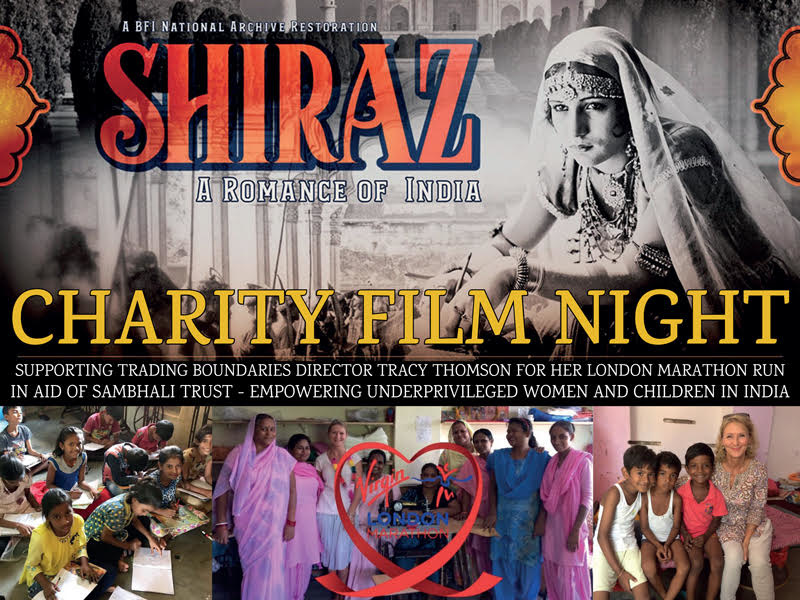 Charity Film Night
Thursday 4 April
Please join us for a fun evening to support Trading Boundaries director, Tracy Thomson, as she takes on the London Marathon, for the very first time, in aid of Sambhali Trust - Empowering women and children in Rajasthan, India. All money raised will go to this important charity that is close to all our hearts. 
TICKETS ONLY £15 (INCLUDING A CURRY) 
ALL PROCEEDS WILL GO TO SAMBHALI TRUSTThe evening will include:
Food - a curry bowl (including a vegetarian option) and rice
- included in the ticket price. 
The showing of the classic film from India: 
'Shiraz: A Romance of India' 
Raffle - with great prizes, including: a showroom voucher, concert tickets, lunch in our cafe, Prosecco afternoon tea and more! 
Offers and shopping on the night. 
The bar will be open all evening for refreshments. 
'Shiraz: A Romance of India: This silent film from 1928 has been newly re-stored by the British Film Institute National Archive with a sumptuous new score from world-renowned sitar player and composer Anoushka Shankar. 
This sweeping tale is based on the true story of the 17th-century Mughal ruler Shah Jahan, his queen and the building of the world's most beautiful monument to love, the Taj Mahal. Shot entirely in India, it features lavish costumes and gorgeous settings, including the extraordinary fort at Agra. Himansu Rai (also the film's producer) stars as the humble potter Shiraz, who follows his childhood sweetheart Selima (Enakshi Rama Rau) when she is sold by slave traders to the future emperor.
A message from Tracy:
"Trading Boundaries has been trading in India, and specifically Rajasthan, since 1996. We've always been keen to support the local communities that have become home from home for us over the years. There are so many worthwhile causes, so why Sambhali?
I first heard of the Sambhali Trust a few years ago from Virendra Singh Chouhan, one of the founding Trustees. I finally visited the charity in 2016 and was instantly struck by the warmth, sincerity and dedication of everyone involved.
By running the London Marathon I'll be raising money that will help educate, empower and support underprivileged women and children living in Rajasthan. Without the assistance of Sambhali it's genuinely very hard to imagine how they would be able to break the cycle of poverty, discrimination and abuse that is the reality of their daily lives. A little can still go a long way in India, so if you feel able to support me by making a donation, no matter how small, I know it will be money very well spent and will genuinely be changing lives for the better."